F.A.Cup: 30th Anniversary: Ride The Sky Blue Bus on Sunday!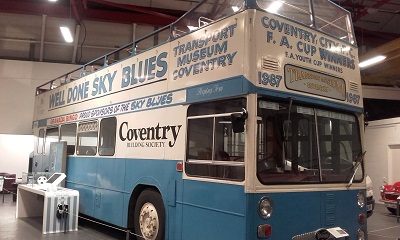 Coventry Transport Museum, slap bang in the centre of the city, is holding a "Sky Blues Bus Day" this Sunday 21st May. The legendary Sky Blues Bus, which carried the victorious 1987 F.A.Cup winning squad through the streets of the city that May 1987 is being opened up just for one day! A full size replica of the F.A.Cup (courtesy of CCFPA vice chairman Billy Bell) will be there too!
To herald the Day earlier this week Vic Minette of BBC CWR broadcast live from the Coventry Transport Museum and Billy and his cup and CCFPA's Sarah-Jane Morris were also there to give assistance! You can listen to the broadcast again which brings back many a memory of City fans from that time by clicking on the BBC C&WR web site here
Visitors are invited to board the unique and famous Sky Blues liveried omnibus (which now has a permanent home at the Museum) to take their own selfies with the Cup and stand on the open top deck of the bus and imagine what it was like for their F.A.Cup heroes to receive the acclaim of tens of thousands of Sky Blue fans and Coventrians as they took their lap of honour through city streets.
The opportunity, part of the various 30th Anniversary celebrations of that wonderful week in May 1987, can be yours from 10am to 4.30pm on Sunday. Though admission to the Museum is free the organisers suggest a £1 donation per visitor to board the bus.
As they say, "This is a one-off opportunity for Sky Blues fans to celebrate the 30th Anniversary of Coventry City FC winning the FA Cup, by boarding the uniquely decorated bus to take their own pictures, and savour the history of the bus and CCFC's historic FA Cup win over Tottenham Hotspur on 16th May 1997 at Wembley." A maximum of a dozen visitors are allowed on the top deck at any one time!
The Coventry Transport Museum tells you more about it on their website (click here)
So, if you are a Sky Blue fan, why not 'ride the bus' first on Sunday and then go on to Coventry Sporting FC later in the morning and take in the charity fixture between a Sky Blues Legends XI (Dave Bennett, Barry Quinn and Dave Busst et al) take on Coventry City Girls FC on a CCGFC Fun Day (see separate news item on this site)!